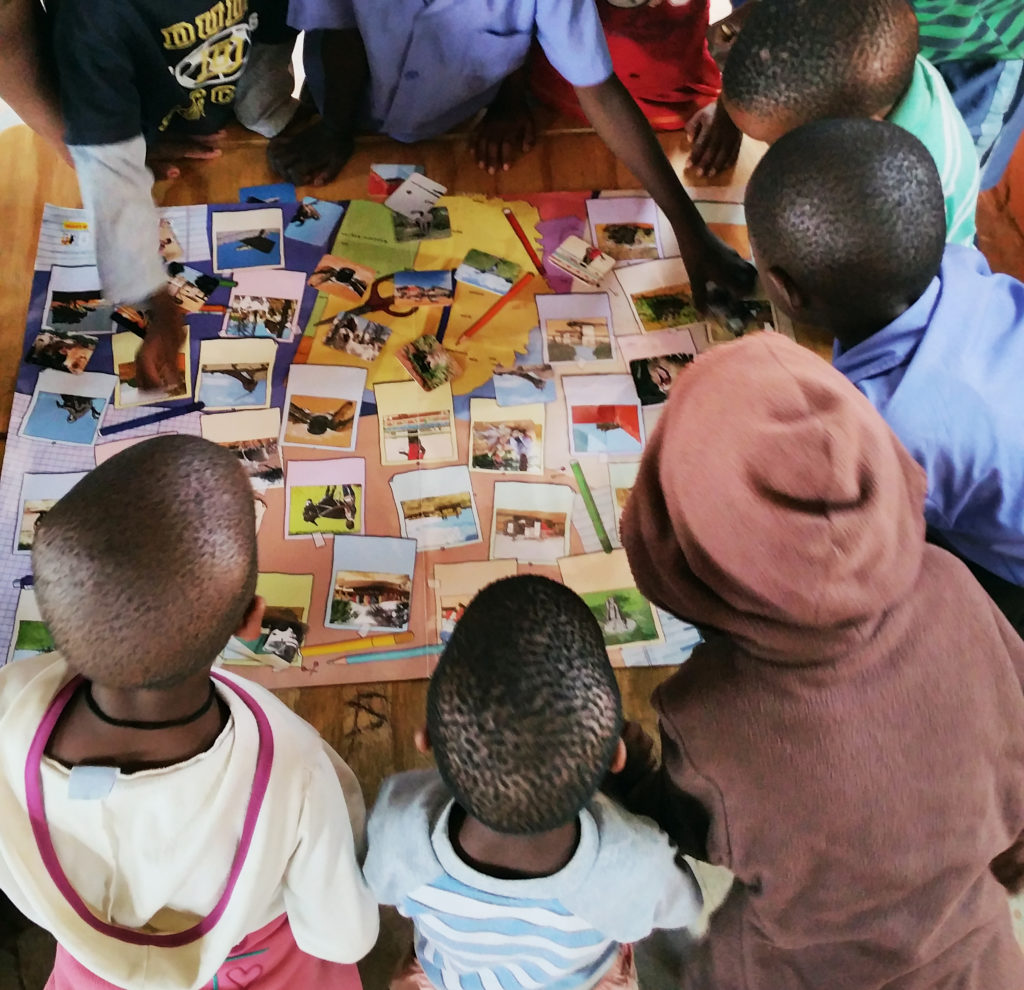 In April 2014 the new "Omaheke Memo" arrived in Witvlei, Gobabis and Omitara in Namibia.
It took the team of "Kunst für Bildung" one year to create this new memory.
Pre-primary teachers of schools in the Omaheke Region in Namibia were complaining their working materials are mainly adaptet to Europe and not to the living conditions of Namibian children. Therefore teachers and students developed their own material. "Pictures from donkey karts or camelthorn trees make it much easier for children in the Omaheke region to recognise the different cards of the memory", explains Susanne Kreis from Suni e.V. The "Omaheke Memo" will be distrubuted to all partner schools from Suni e.V. in the Omaheke region in Namibia.
You can order the "Omaheke Memo" under contact(et)kunst-fuer-bildung.org
The photo shows pre-primary children from Witvlei playing with the "Omaheke Memo". The project was coordinated by Barbara Scharfbillig and Susanne Kreis. Thanks to Ms. Motzang (Mphe Thuto Primary School), Stefanie Knapp and Vanessa Derichs.
______________________________________________
Das "Kunst für Bildung" Team gestalte 2013 ein Memory für die Partnerschulen von Suni e.V. in Namibia. Die Motive dazu wurden an die namibische Lebensrealität angepasst und zeigen Tiere, Landschaften sowie Situationen aus dem alltäglichen Leben in der Omaheke Region. Für die Schülerinnen und Schüler der Vorschulen ist es jetzt einfacher mit diesem pädagogischen Spiel ihr Gedächtnis und ihr Erinnerungsvermögen zu trainieren, da die Bilder ihrer Lebenswelt entsprechen. In Namibia waren die neuen "Omaheke Memos" sofort ein Erfolg und werden ab jetzt an allen Vorschulen unserer Partner eingesetzt. Produktion und Verteilung der Memorys übernahmen Susanne Kreis und Vanessa Derichs. Dank auch an Barbara Scharfbillig für die Leitung des Projektes sowie an Frau Motzang von der Mphe Thuto Primary School und an Stefanie Knapp. Suni e.V. wünscht allen Vorschülern und Vorschülerinnen viel Spaß damit!
Sie können das Omaheke Memo unter folgender Adresse bestellen contact(et)kunst-fuer-bildung.org